A Paradigm Shift in Medicine
The time is NOW! Change your pets' health trajectory!
Truly holistic veterinary care is hard to come by in today's world AND, chronic debilitating disease is sky rocketing, putting a serious damper on quality of life, longevity and your wallet!
We're also at a cross roads because conventional care is no longer works for most diseases!
A new approach to health is needed and THIS is your chance to learn how to take control of your pet's health care from the comfort of your own home.
I'm a TRULY holistic veterinarian with close to 30 years of experience and have helped hundreds of animals!
I sheepishly calls herself a "trouble maker", because I understand that we're at the turning point for our pets and humanity and I don't shy away from infectiously stepping into the unknown and endless possibilities.
Your pets' health is my mission! I want them (and you) to experience exuberant vitality, deep joy and unconditional love.
Are you ready to join the community of "trouble makers"?
Start with my FREE Masterclass (button above) and then schedule a free interview (button below).
Take Charge of Your Pet's Health!
Learn the 7 Pillars of Health so you can give your best friend the life they deserve.
Here is what you'll get:
** In-depth holistic pet health knowledge at veterinary level through easy-to-follow videos.
** Weekly LIVE Q&A's with Dr. Suter to assist you in implementing what you learn and help you with your burning questions regarding your pet's health.
** Supportive and loving online community of like-minded pet parents for added assistance.
** Online from the comfort of your own home - no matter where you live!
Are you ready to change your pet's health trajectory?
Schedule a free interview to find out if this program is a good fit for you.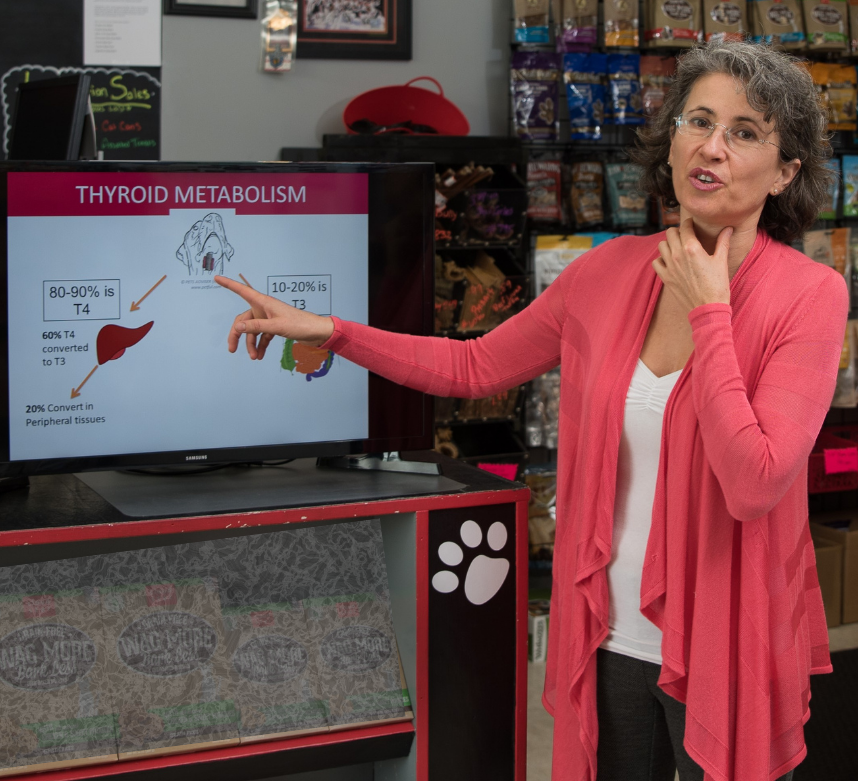 Testimonials
Dr. Odette Suter.... your video series is absolutely amazing. Wow! I feel like I went through vet school. There is an enormous amount of extraordinary information organized in such clear ways and the contents are easy to understand to the average busy layperson.
In the times that we live in it is a MUST to educate ourselves as we continue to pave the way of a new and empowering health paradigm for both animals and humans!
Our vets can't do it alone. We have to help and spread the information.
Clearly, your series applies to the human being, too. – Fabienne D.
Anyone thinking of taking Dr. Suter's course whether you already know a lot or very little about holistic care for animals don't hesitate "The Holistic Pet Health & Longevity Program " puts together a plan to do the very best you can by being proactive with your animals health . I enjoyed how each Module was presented , packed with information explaining each module in a way that was easy to understand. How every system in the animals body works , and making it clear that each system does not operate in a vacuum, but as a whole and when you look at the whole you will get better outcomes . So different than conventional vets or human doctors for that matter. In a good way! - Georgia R.
I'm a retired vet tech, but quite new to holistic medicine and this class has been incredible. It was exactly what I had hoped for and more. The lectures are comprehensive and full of valuable information for anyone wanting to learn more about holistic pet care, and how to improve their pet's life. Dr. Suter is engaging, fun, and super smart. She encourages questions is always willing to dive deep to provide answers. She is also great at explaining complicated technical aspects of veterinary medicine in an easily understandable way.
Dr. Suter's passion for creating a community for those of us who want to learn more so we can do better is something that is much needed in the veterinary field. She truly cares about her students, her clients, our pets and the planet we live on, and is creating a wonderful community to nurture all of us on our journey.
- Michele T.
If you are on the fence about taking The Holistic Pet Health and Longevity Course with Dr. Suter, jump off that fence and sharpen your pencil, you are in for one INFORMATIVE ride! We had such a wonderful group, like-minded pet parents from all over the globe. Dr. Suter takes hard topics and breaks them down so you can easily understand them, and she makes them fun too! The Q&A sessions are so informative too! I am so glad I took the leap. You will be too! You do better when you know better. Our pup's vitality has truly improved since taking this course. You have everything to gain - enjoy! - Mary Z.
Dr. Suter's Holistic Pet Health and Longevity Method Program is beyond fabulous. I came here because my Golden was dying of cancer. I was tired of feeling like I have no control or say in my dogs health. There is so much information out there that it is overwhelming. Dr. Suter helps you wade through this vast amount of information in a way we can understand. She truly cares about each pet and pet parent. I now feel empowered to do better with my younger pups. - Peggy W.
Dr. Odette Suter has changed our lives with respect to our animals. Her classes are enlightening and informative. I believe any pet owner should invest in Dr. Suter's programs.  Our friends and family who see our two dogs after only 3 months of working with Dr. Suter have commented on how different our dogs are acting. Happy healthy wonderful dogs now live with us, all thanks to her. – Jill K.

The information provided at these classes was amazing. We learned so much about what effects the health of our pets, from vaccines, to diet, to table food, to ingredients in manufactured food. This information will assist us in the continued health for both our pets.
We are thankful every day for having found Odette and her treatment program. It literally gave us our dog back to live a full happy life. – Rhonda G.